point Mousse
Feb 21
ravel |ˈravəl|
verb
1 untangle or unravel something 
2 confuse or complicate
noun, rare
1 a tangle, cluster, or knot                                                                                     
2 a sweet new film I'm bringing to life!
You've probably heard the story before: girl meets boy, girl likes boy, girl knits boy a hat, and then… wait, you don't know this one? Oh! Well, that's why we're making this film! 
Set in Central Park and filled with color, play, and an entrancing musical score, this silent film follows a dancing ball of yarn that brings two people together.  It's short, sweet, and as cozy as a homemade sweater.
We're assembling a brilliant cast and crew filled with people who feel passionately about the project.
Your greatly appreciated donations will go to the financing side of making this vision possible.  Contributions will pay for equipment rentals, location permits, insurance, food and transportation for our team, props and costumes, hair and makeup, post-production costs, mixing and mastering the score, distributing (and crafting!) your rewards, and CGI for the giant robot fight scene at the end of Scene 5.  (Giant robot fight scene may be cut due to lack of funds.) Anything we can save will be used to pay festival fees come the fall.  And by then your heads will be very warm. Did I mention I'll knit you a hat?
Oh, and how many times did you spot Lucky Chicken? 
Hint 1: He likes to hide in yarn…
Hint 2: The answer is four! Good luck!
Feb 01
Anastasia Romanov.
(Source: theyarnover, via theoreticalknitting)
Jan 24
(via doublecrochets)
Jan 23
Magdalena Frackowiak photographed by Mariano Vivanco, Dazed and Confused August 2007
(Source: communionofsaints, via woolandthegang)
Jan 18
Je vous presente Monsieur Le Bonnet.
Et le voilà ! Il est super doux et chaud. Tricoté en point de riz pour empêcher l'air de rentrer ❅ 
so cute !
014-of-366 (by Vicki (Knitorious) / Victoria-Pictoria)
(via mycutecrush)
Nov 17
EMILY BARLETTA
If you had to describe your work in 3 words what would they be?
Red. Slow. Hand.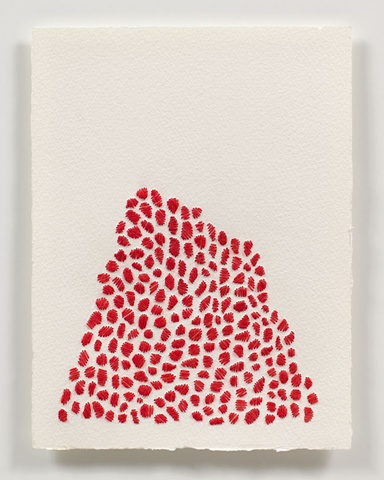 2010
thread and paper
5.5 x 8.5 inches
Photograph by Austin Kennedy
2010
thread on paper
5.5 x 8.5 inches
Photograph by Austin Kennedy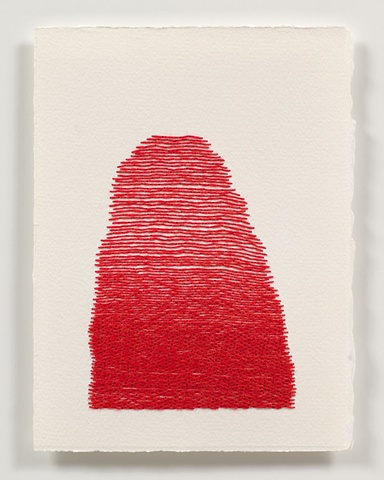 2010
thread and paper
5.5 x 8.5 inches
Photograph by Austin Kennedy 
What do you struggle with most as an artist?
Time.  Making the time, finding the time, using the time wisely.  I work 4 days a week at my job and all I really want to do is sit down and sew when I get home, but I also want to stare at the wall, cook dinner, go out and see things, and spend time with my friends and family.  It's hard to find balance.  I don't find it all that often.
☛
emilybarletta.com
☛ emily's blog
☛ the full interview
Nov 14
Yelena Bryskenova, Lopi Sweater 
Nov 02
sprezzatura
Mathieu Drouet x Xavier Brisoux 
where / où / dove
AVH
36, Boulevard Bonne Nouvelle
75100 Paris
when / quand / quando
8 - 15.12
☞ more info here